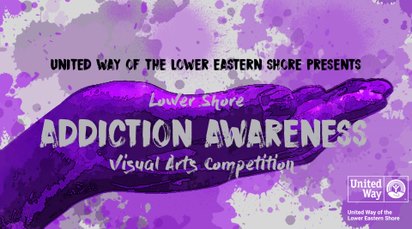 THANK YOU TO EVERYONE WHO SUBMITTED AN ENTRY FOR OUR 2023 ART CONTEST.
All County Exhibition:  Salisbury Art Space, May.  A reception with awards announcements was held on Friday, May 19, 5-7 p.m. with awards announced at 6 p.m.   
All Entries: Salisbury Art Space, through May 28th. Check SAS for hours of operation. 
Worcester County Entries:  Art League of Ocean City, June 2-4.
Somerset County Entries:  Somerset County Arts Council, June 9-24.
Our 2023 Winners are:
Best of Show - Jacob Payne, Pocomoke High School
Worcester County
High School - Alexia Shepherd, 1st Place - Pocomoke High School
Payton Carlile, 2nd Place - Pocomoke High School
Ella Miller, 3rd Place - Pocomoke High School
Wicomico County
Jordyn Welch, 1st Place - Wicomico High School
Bailey Billing, 2nd Place - The Salisbury School
Raegan Tucker, 3rd Place - Salisbury Christian School
Somerset County
Harmony Carter, 1st Place - Crisfield High School
Chloe Aurelio, 2nd Place - Washington High School
Breyana Falcone, 3rd Place - Washington High School
Dorchester County
Madelyn Price-Montgomery, 1st Place - North Dorchester High School
Ta'Tyana Maradiaga, 2nd Place - North Dorchester High School
Ashlee Rio Zueero, 3rd Place - North Dorchester High School
Other Awards
Honorable Mentions
Emily Wise, Crisfield High School
Isabella McHenry, Crisfield High School
Zilal Mohamed, Washington High School
Nina Williams, Salisbury Christian School